Maximising DevOps Potential: Join SWForum Webinar on 20 April 2023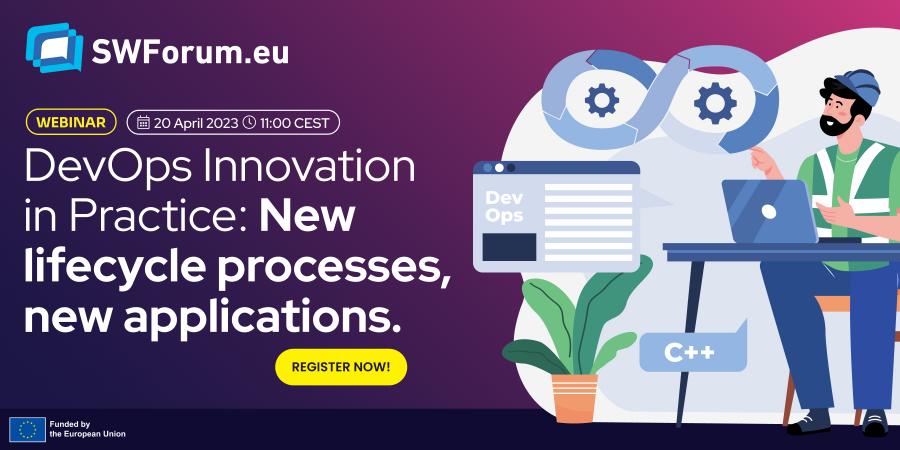 Mark your calendars for our next webinar series.
The SWForum is proud to announce our upcoming webinar on April 20th, 2023 from 11:00-12:30 CEST, entitled 'DevOps Innovation in Practice: New lifecycle processes, new applications,' Join us as we explore the latest trends and advancements in DevOps, featuring experts in the field and EU-funded projects sharing their experiences and insights.
This third webinar series is focusing on innovation in DevOps lifecycle processes, practices, and culture, aiming to gather key actors in the fields, such as software engineering experts, software technology and digital infrastructure communities, EC-funded H2020 and Horizon Europe projects, policymakers and decision-makers, and SMEs and large industries.
This webinar will showcase some of the exciting new results coming out of R&D projects, such as COSMOS, PIACERE, DESTINI and VeriDevOps, dedicated to advancing the state of the art in DevOps for advanced software systems.
Born in the wake of the agile movement in the early 2000s, DevOps has today become one of the primary drivers of continuous software engineering. Integrating software development and IT operations has helped achieve unprecedented levels of workflow automation and rapid feedback.
Discover the exciting agenda and register for our upcoming webinar on DevOps innovation! Hear from industry experts and EU-funded projects about the latest trends and advancements in DevOps. Visit our official webinar page now!
You can rewatch the first two webinars series focussing on:
And, learn more about the respective topics by downloading the post-webinar report, where you can read the insightful recommendations coming from the R&I projects and webinar speakers. You can now download the post-webinar report here.