Energy reduction for AI loads: New solutions from ANDREAS and AI-SPRINT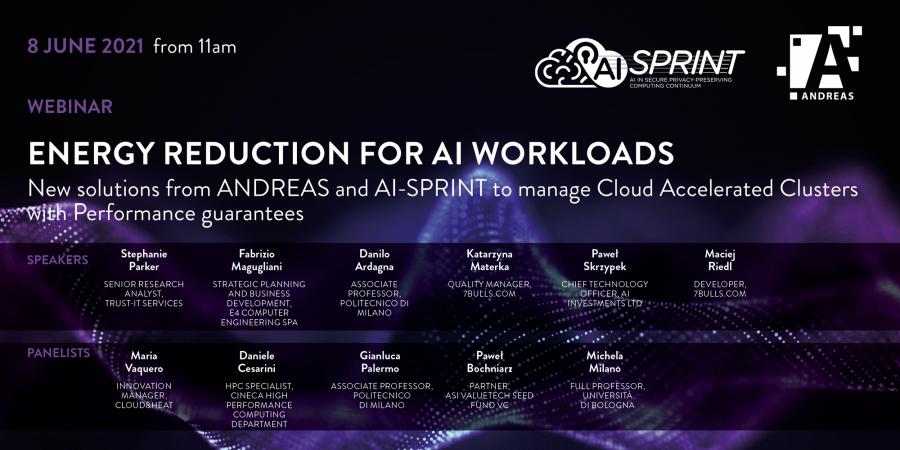 About the webinar
Cloud operators & data centres have power consumption limits. Finding the optimal balance between the workload (Time to Solution) and power consumption (Energy to Solution) has significant economic implications. What's more, the growing demand for ever larger AI/ML workloads on GPU makes it imperative to carefully manage power consumption while maximising the use of GPUs, which are high-value assets.
This workshop will offer an in-depth look at two projects which are developing practical solutions to change the present paradigm of Artificial Intelligence (AI) and Deep Learning (DL) methods in terms of data computing, processing and energy consumption.
ANDREAS (Artificial intelligence training scheduler for accelerated clusters), is part of the TETRAMAX innovation hub and developed an advanced scheduling solution aimed at optimizing DL training run-time workloads and their energy consumption in accelerated clusters.
AI-SPRINT H2020 project is set to leverage the benefits of ANDREAS along with other open tools and techniques to manage AI-enabled applications in complex cloud/edge contexts. Its research and innovations will bring to market novel tools for AI application developments, secure execution, easy deployment and runtime management, optimisation with trade-offs for performance KPIs like E2E latency, throughput, as well as energy efficiency and AI model accuracy with security and privacy guarantees.
The projects will demonstrate how operators / data centers can keep the power consumption under control simultaneously with the optimization of the workloads and how the cloud end user will be able to minimise cloud resource usage cost.
Finally, a panel discussion will highlight how we can achieve efficient and sustainable energy management in different context such as Data Centers, High Performance Computing systems and Artificial Intelligence.