DECODER: Helping to strengthen IoT, Cloud and HPC systems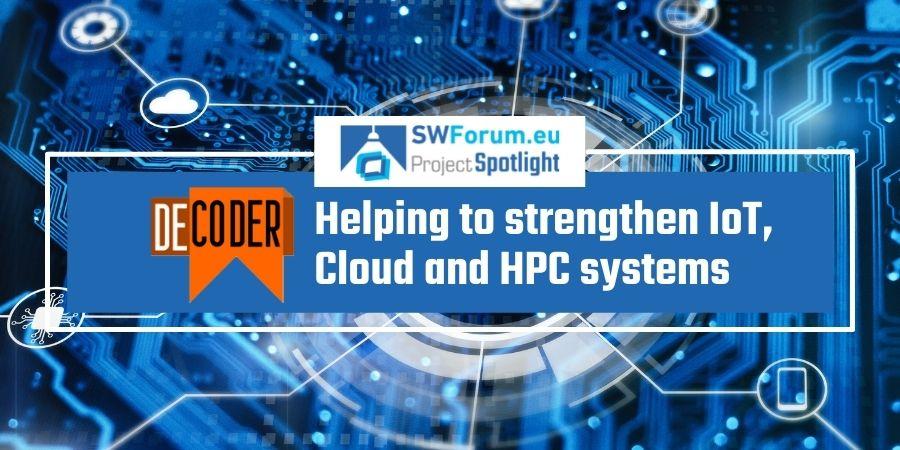 Software is everywhere and the productivity of Software Engineers has increased radically with the advent of new specification, design and programming paradigms and languages.
DECODER is building a Software Project Intelligence platform to shorten the learning curve of all new software contributors including programmers, testers, maintainers and operators. DECODER is using NLP (Natural Language Processing) and ML (Machine Learning) techniques to improve software understanding and updates, the software code being considered as a natural language. DECODER activities involve seven organizations from four European countries, one university (Polytechnic University of Valencia in Spain), one research centre (CEA List in France), two industrial partners (Capgemini TS in Spain, Sysgo in Germany) and three SMEs (OW2 in France, Technikon in Austria, and Tree Technology in Spain).
Communication is essential in dealing with cybersecurity threats and incidents. The DECODER platform brings a collaborative solution for more secure IoT, cloud computing and HPC software, aligned with the DevSecOps approach.
- Olivier Bouzereau, Project coordinator OW2

DECODER : making a difference to support the Horizon Europe and Digital Europe
Software end-users want security and performances. The DECODER platform contributes to bring both of them, while accelerating software updates. Thanks to state-of-the-art Artificial Intelligence techniques, medium criticality systems, such as IoT, cloud computing and HPC can be automatically analyzed and documented. This contributes to increase workgroup productivity from software designers to service operators, including testers and maintainers. Developers can deliver high quality codes that are more secure and better aligned with requirements, while maintainers can immediately know what has been done, how and with what tools.
The DECODER platform fits perfectly with the recovery and resilience plans that are currently motivating policy makers in the European Union. By improving the discovery and understanding of software code, DECODER helps to strengthen IoT, Cloud and HPC systems, to meet service levels, security levels, compliance and feature requirements. The methods and tools aggregated in the DECODER platform can serve the "connected research and innovation" expected by the Horizon Europe programme. They can also effectively support the Digital Europe programme for sovereign digital developments, independent of systems and solutions from other regions in the world.
Learn more about the DECODER project and stay tuned for their latest updates.