Greening the Supply Chain: How Computer Vision is Transforming Logistics for a Sustainable Future
As the world becomes more aware of the impacts of climate change, there is a growing need for businesses to adopt more sustainable practices. One area where the ecological transition is particularly important is logistics, where companies can significantly reduce their carbon footprint by optimizing their supply chains and transportation networks. More than 90% of the transport of goods is made by sea, something to think about whenever we are about to finalize an online shopping that most probably will require international shipping. Similarly to the case of Healthcare discussed in my last post, also the sector of transport and logistics hosts a conservative industry (although the many European and international initiatives to change that), used to classical and often only-Human tasks and typically resistant to digital transformation. Also here the COVID-19 pandemic fast-forwarded the processes in that transformation, until then mostly engaging the bigger logistics hubs. We have discussed in this forum about the supply chain cybersecurity and resilience in their association with AI-based services, but in this post we will mostly focus on the optimisation of port operations. A good topic to precede the European Maritime Day that once again takes place in the end of May (and where I premier this topic in 2019 in Lisbon, Portugal).

The opportunity for change is here and now, and several European logistics hubs have taken lead, with a forefront in Rotterdam, Hamburg and Antwerp that are very active in the organisation of ICT events and initiatives for the maritime industry, the Baltic ports focusing on renewable energies and sustainable shipping, or Iberian port ecosystems in Lisbon, Porto, Barcelona and Valencia changing the landscape of the industrial sector to include sophisticated technologies in their portfolios in pair with the modernisation of their processes. To do this effectively, many are turning to artificial intelligence (AI) and computer vision technologies. AI and computer vision technologies have the potential to bring logistics to a next level by providing real-time visibility into supply chain operations and enabling more efficient and sustainable transportation, leveraging the fast reduction of the prices of sensors and satellite imagery available in the market. By leveraging these technologies, logistic hubs can reduce waste and lower emissions, improve their energy consumption and (in some cases) production, and increase profitability and compliance with legislation, while also contributing to the green transition.
One of the key benefits of AI and computer vision in logistics is their ability to provide real-time visibility into supply chain operations. A beneficial data source is the Automatic Identification System (AIS) data using transceivers on ships and is used by vessel traffic services. Although its accuracy lag, the AIS data together with the FAL forms data resulting from the communication between the ship and the port authority, are the most common resource in logistic hubs to track Sensors at terminals are complementing this information with the overview of inventory levels, monitoring production processes, and managing transportation networks. My colleagues at XLAB did an excellent job in combining AIS data, machine learning methods, inexpensive satellite imagery and state-of-the-art computer vision methods to capture detail on every aspect of the supply chain, providing ports and terminals with an AI-based comprehensive view of their logistic operations. Moreover, by using satellite imagery, sensors and smart cameras in combination with AI methods and computer vision to optimize transportation routes, the fantastic AI team at XLAB showed how logistic hubs can also reduce the distance traveled by vehicles, the congestion near the port entrance, lowering emissions and saving fuel costs. In fact, the satellite imagery-based AI technology itself is scalable and can be refocused to other concerns as, e.g., to prevent vegetation from threatening infrastructure observing it from space or to identify criminal actions at sea.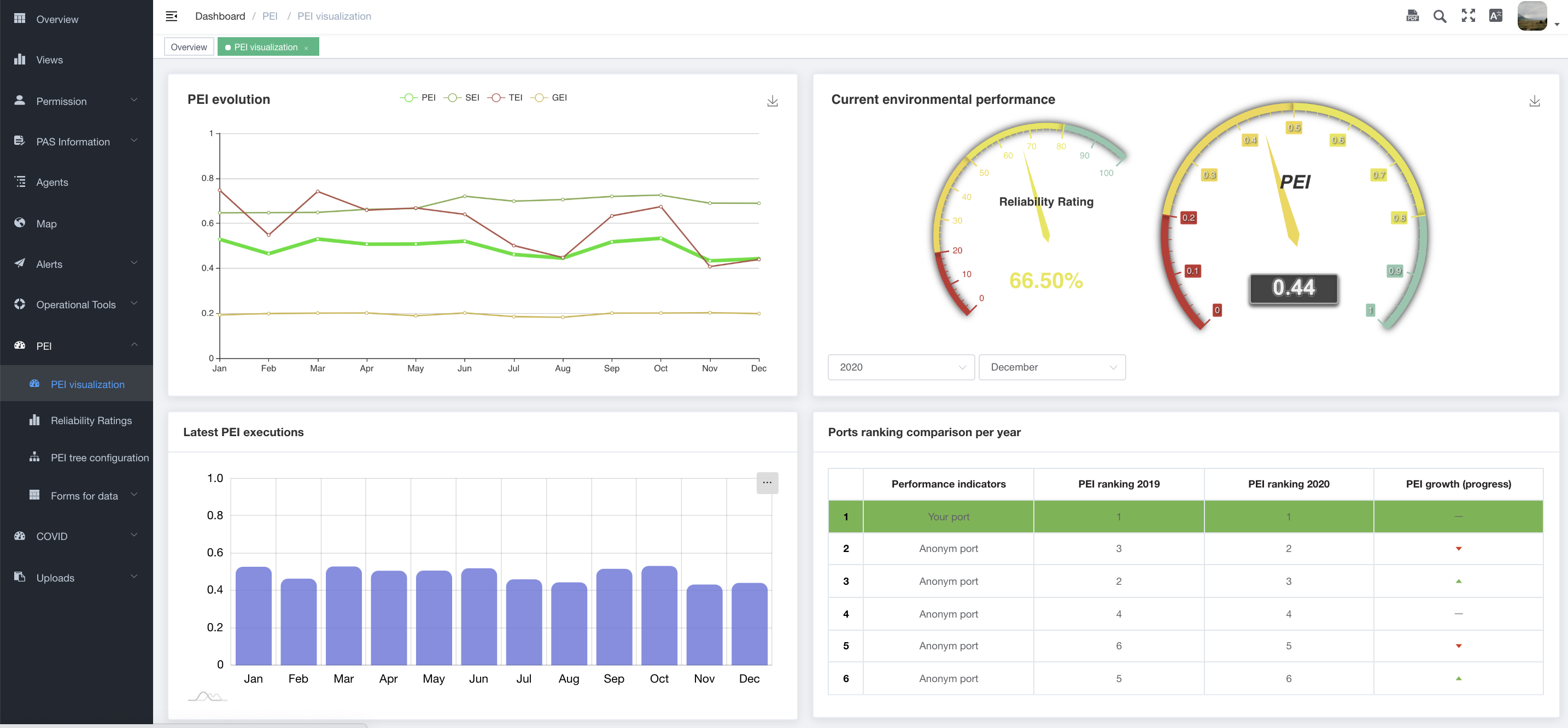 A few years ago I took the role of innovation manager at the EU Horizon 2020 PIXEL Ports project, grew up through it and put my heart on its challenges. This successful European Commission's innovation action culminated in the PIXEL Ports Association that I represent, empowering small and medium ports and terminals to engage on the benefits of the ecological transition through the digital transformation of their processes and methods towards an optimized and cost-effective modernisation having in mind the specific challenges related to their size and budget. Because yes, the ecological transition can be expensive in any industrial sector, but that price can and should be optimized considering the priorities and problems to be addressed. This transition must take into consideration the existing in-house technology and digital skills of employees to reach an achievable baseline, as well as the legal and regulatory national and European horizon to comply with (and that horizon is changing and will continue to change). 
In the PIXEL Ports project we developed a pioneer data-driven environmental indicator that is able to combine measurements of wastewater and emissions to the atmosphere as well as noise, light and odour pollution contributing to the improvement of the relationship between the port and the host city. This data-driven tool, named Port Environmental Index, being implemented in several ports across Europe, provides a sensible barometer for the environmental performance of the port ecosystem, transferring the traditionally manual data collection to an appropriate digital transformation that enables simulation of energy consumption-production balance, environmental pollution impact reduction, and the meaningful application of machine learning to address the challenges of such complex systems. In early 2022, just before wrapping up the PIXEL Ports project, I published with Port Technology International on our main achievement, Europe's first IoT-based single window for environmental performance, after taking part in the GreenTech2021 to discuss how the use of data by ports, terminals and shipping companies can make the logistics sector become greener and smarter. The Port Environmental Index harnesses machine learning algorithms to improve efficiencies and reduce the carbon footprint of a port facility.
One of the most promising areas for the use of AI and computer vision in logistics is in the area of sustainability reporting. As digital hubs and local governments seek to demonstrate their commitment to sustainability, there is a growing demand for accurate and transparent reporting on environmental performance. As companies seek to demonstrate their commitment to sustainability, AI and computer vision can play a key role in providing accuracy and transparency to environmental reporting. With the right investments in technology and talent, logistics companies can use AI and computer vision to drive sustainability and profitability in the years to come. Do you see this happening in your region and industry? How is this affecting, in your opinion, our overall sustainability in society? Share your views and opinions!